How We Protect Your Personal Information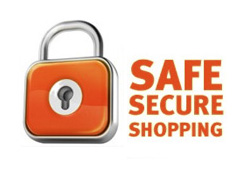 Pinnacle takes every precaution to protect our users' information. When users submit sensitive information via the website, your information is protected both online and offline. We realize you demand a safe shopping experience, and you deserve it!
When you are asked to enter sensitive information (such as credit card number), that information is encrypted and is protected with Secure Sockets Layer (SSL) technology. While on a secure page, such as our order and registration forms, the web page bcomes becomes secured and locked, as opposed to unlocked, or open, when you are just "surfing."
Secure connections (often called SSL, or Secure Sockets Layer technology) are the industry standard in Web security. SSL is used primarily for transmitting sensitive information over the Internet. When you have a secure connection between your browser and a website, no one else can easily access the data that you send across the connection. This protects you!
While we use SSL encryption to protect sensitive information online, we also do everything in our power to protect user information offline. All of our users' information, not just the sensitive information mentioned above, is restricted in our offices. Only staff members who need the information to perform a specific job (for example, a shipping clerk or a customer service representative) are granted access to personally identifiable information. Furthermore, all staff members are kept up-to-date on our security and privacy practices. Our staff members are regularly notified and reminded about the importance we place on privacy, and what they can do to ensure our customers' information is protected.
Finally, the servers on which we store personally identifiable information collected at this website are kept in a secure environment. The data center we use has strict security policies! Data center access is strictly limited to qualified technical staff. Electronic security systems control data center access and are accompanied by a full compliment of motion detecting security cameras which monitor the entire facility. Your data is safe!
What you can do to Protect Your Personal Information
Five simple rules to safer online transactions, here are some simple steps you can use to protect yourself while engaging in online transactions, weather shopping on our website or elsewhere.
01 Use a secure password
Do not choose a password that is easy to guess such as your ID, telephone number, identification number or birth date. Also, avoid using repeated or sequential numbers like 111111 or 654321.
02 Don't save your ID and password
If you're using a public computer, a shared work computer for example, don't save your login information and disable options that automatically remember your username and password.
03 Clear your browser's cache and history
If you are using a public computer, we strongly advise you to clear the browser cache memory when you are ready to end your Internet session.
04 Secure your wireless network and devices
If you are using a wireless network/device, you are strongly advised to read your instruction manual, or consult the vendors to configure your wireless network/device to ensure adequate security levels.
05 Always Log Out after your Internet Shopping session
Always remember to Log Out when you are done, for the same reasons you would remove your ATM card after you have completed all your transactions at an ATM.