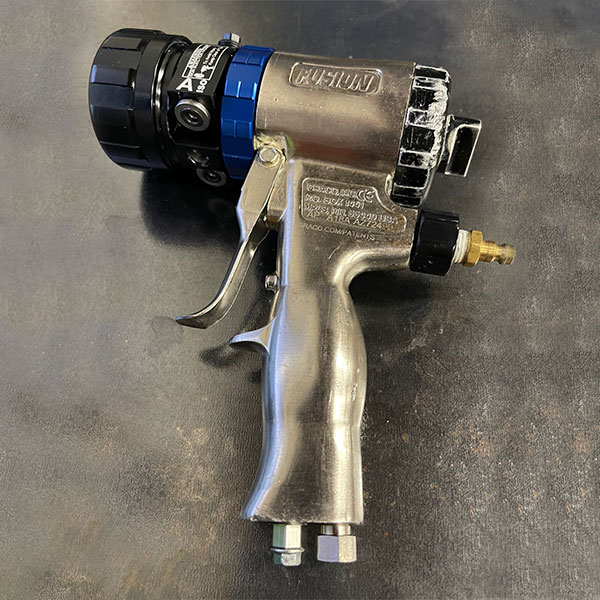 Used Graco Fusion PC Spray Gun
Overview
This used Graco Fusion PC Spray Gun has been fully serviced and is ready to work. The Fusion PC (ProConnect) gun features a replacement cartridge head that replaces multiple individual parts with a single component. Simply replacing a cartridge allows for a much faster rebuild, which keeps you spraying and minimizes costly downtime.
Request a Quote
Contact one of our sales experts toll-free at 1-800-901-0088 or fill out the form below
Key Features
ProConnect Cartridge: Fully assembled and factory tested, contains side seals and all related o-rings in one simple part
Fluid Housing with ProConnect Technology: Replace fluid cartridge in seconds
A/B Fluid Check Valves: Cross-overs remain contained in cartridge
Fusion AP Spray Technology: Excellent spray performance in an easy to use, easy to clean gun
Reduced Downtime: Spend more time spraying, maximizing uptime, and getting jobs done faster
Fewer Parts: 13 parts are replaced by a single ProConnect cartridge, this means you can stock fewer parts and have a perfect rebuild in seconds, with a factory tested replacement cartridge
Purchaser understands that the Goods described herein have been used by persons other than Seller. All goods are purchased by the purchaser "as is" and "with all faults", and seller makes no representation or warranty, express, or implied, including but not limited to warranties of merchantability or fitness for a particular purpose or any other matter with respect to the goods. Seller strongly recommends that purchaser conduct an inspection of the goods sold hereunder. seller shall not be responsible for the consequences of purchaser's failure to inspect the goods.