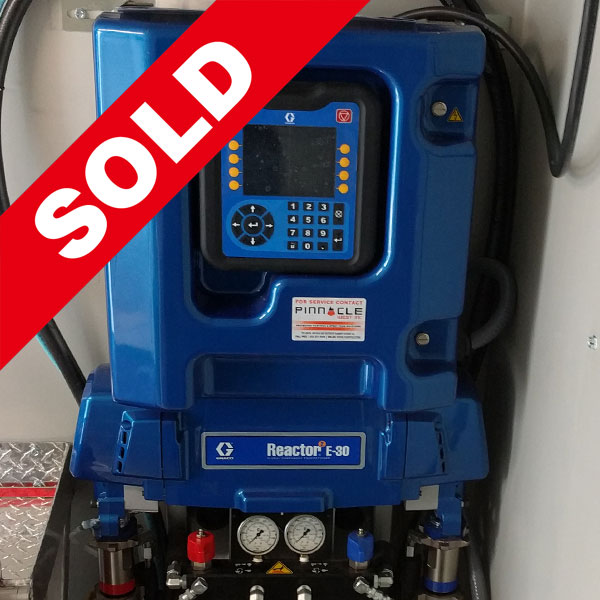 Used Graco Reactor 2 E-30
Overview
This used Graco Reactor 2 E-30 has been fully serviced and is ready to work. This is a bare unit and does not include accessories such as hoses, transfer pumps, spray gun etc. we can add new accessories to this package if requested. The Reactor 2 E-30 electric spray foam machine provides next-gen technology for spray foam insulation. Each feature on the E-30 was strategically designed for your business, including software and hardware enhancements for better spray performance, remote access to controls and unmatched jobsite data.
Request a Quote
Contact one of our sales experts toll-free at 1-800-901-0088 or fill out the form below
Key Features
Reactor Connect App: Make real time adjustments to your proportioner all from your smartphone
Voltage Jumpers: Allows for one model to be wired to different voltages
Resistance Control Mode: Provides full hose temperature control without RTD cables or Fluid Temperature Sensor
Easy Troubleshooting Diagnosis: Quick and easy troubleshooting thanks to QR code shortcuts
Consistent Spray Pattern: Minimizes pressure fluctuations on pump changeover
Proven Reliability: Plenty of power for most residential and commercial applications
Purchaser understands that the Goods described herein have been used by persons other than Seller. All goods are purchased by the purchaser "as is" and "with all faults", and seller makes no representation or warranty, express, or implied, including but not limited to warranties of merchantability or fitness for a particular purpose or any other matter with respect to the goods. Seller strongly recommends that purchaser conduct an inspection of the goods sold hereunder. seller shall not be responsible for the consequences of purchaser's failure to inspect the goods.