Graco Fireproofing Equipment Selection Guide
ToughTek Fireproofing Pumps
Looking to add a new profit center to your business? Turn a code requirement into a profit opportunity and place your company above the competition. Start applying fireproofing materials with ToughTek equipment distributed by Pinnacle.
Graco's versatile fireproofing pumps can easily apply low, medium, and high-density spray-applied fire resistive material (SFRM) to columns, beams, joists, decks, walls, floors, and more. Graco has a full line of pumps to get the project done.
Graco cementitious fireproofing pumps offer you higher production output in a portable, light package you can easily wheel around your job site. These versatile pumps can handle everything from small patch jobs all the way up to high-production jobs requiring more than 150 bags a day.
We're here to help

If you need help deciding which mortar pump is right for your application we encourage you contact one of our sales experts, they are the best in the business at providing equipment solutions that work.

Powerful Meets Portability
Pumps are compact and easy to take from one job to another. They easily handle spray-applied fire resistive materials (SFRMs).
Touchups to Large-Scale Jobs
Whatever fireproofing material you're working with, Graco pumps can handle a mix of jobs from small touchups to factory-size projects.
Easy to Operate
The Graco ToughTek high-performance pumps are designed for simple, intuitive operation, your crew will be up and running in no time.
Save Time and Money
ToughTek Pumps move materials through long hose lengths – which helps you spray longer and farther to get the job done sooner.
Materials
Low, medium and high density fireproofing materials including.
Gypsum-based SFRMs
Cementitious SFRMs
Applications
Get your fireproofing projects done faster and more efficiently.
Residential & commercial high-rise construction
Gas and chemical processing facilities
Industrial structures
Schools, hospitals & sports arenas
Floor & roof assemblies, steel beams, joists & columns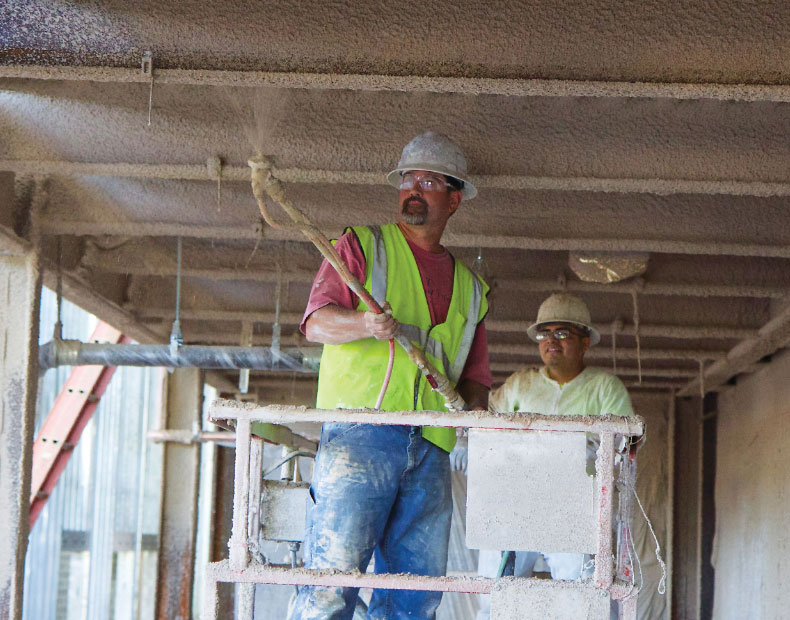 F340e Piston Pump

F800e Piston Pump

P30X Rotor Stator Pump
Material Output
20 bags/hr
40 bags/hr
35 bags/hr
Maximum Pressure
600 psi (42 bar)
600 psi (42 bar)
300 psi (21 bar)
Hopper Capacity
20 gal (76 L)
40 gal (152 L)
60 gal (227 L)
Maximum Hose Length
150 ft (46 m)
300 ft (91 m)
200 ft (61 m)
Pump Outlet Size
1.5 in (38 mm) Camlock
2 in (51 mm) Camlock
1.5 in (38 mm) Camlock
Maximum Particle Size
3/16 in (5 mm)
3/16 in (5 mm)
1/4 in (6 mm)
System Weight
205 lbs (93 kg)
385 lbs (175 kg)
420 lbs (190 kg)
Power Input
120V, 15A
230V, 10A, 1Ph
240V, 30A, 1Ph
(2) 120V, 15A
240V, 30A, 1Ph
Learn More
Learn More
Learn More
Find out how our product solutions can help expand your business, 1-800-901-0088.